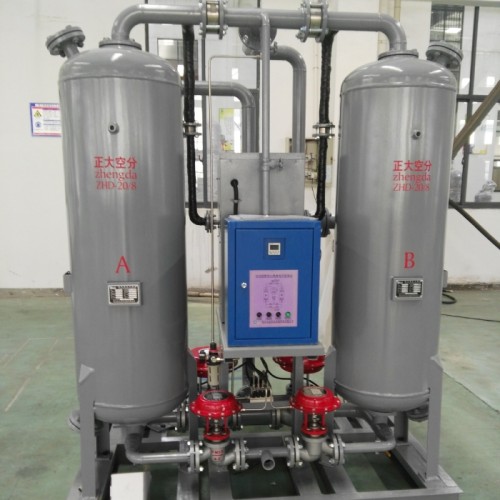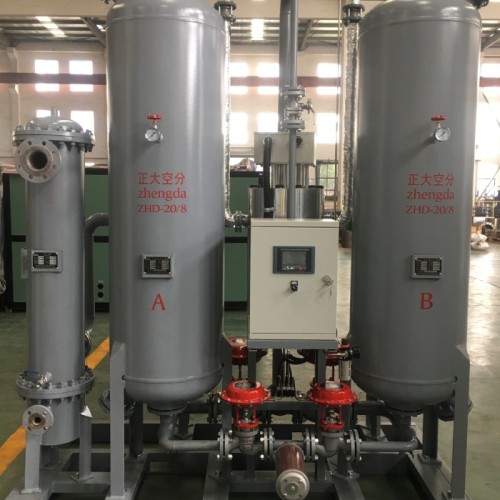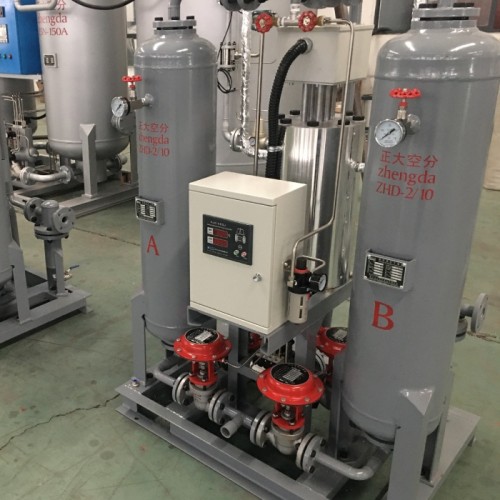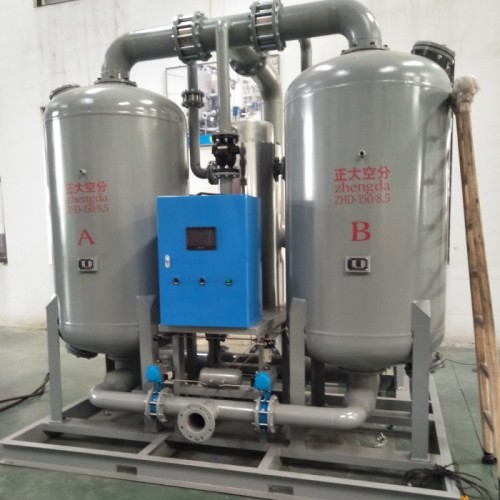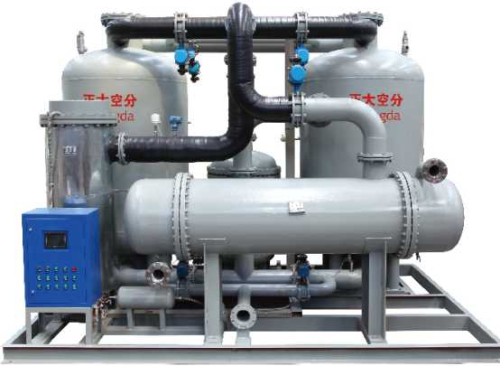 ZYD Micro-gas Consumption & Waste-heat Regeneration Dryer|Regenerative Dryer|Compressed Air Purification Equipment
Item specifics
Air Processing Capacity

20〜600Nm3 / min
Operating Pressure

0.6〜1.OMPa
Air Inlet Temperature

≥lO5°C〜150°C
Dew Point of the Finished Product Gas

≤-40°C〜一60°C
Control Mode

PLC
Operating Period

6〜8h
Regenerated Gas Consumption

≤1〜3%
Description
The waste-heat regeneration dryer is a new adsorption dryer, belongs to neither heat regeneration nor no-heat regeneration, adopts the temperature swing adsorption, and utilizes the heat arisen from high-temperature gas discharge by the air compressor to directly heat the regeneration drying agent, so that the adsorbent may be thoroughly regenerated, therefore, fully utilizing its own energy may achieve the energy-saving effect.
The waste-heat regeneration dryer for compressed air adopts the double-tower structure. The tower is filled with adsorbents. When one tower is carrying out the drying process, the other tower is implementing the desorption process.
The waste-heat regeneration dryer for compressed air is composed of the following devices including two adsorption towers available for being alternatively used, one muffler, one air cooler, one steam-liquid separator, optional auxiliary electric heating system, one set of switch valves, one control system, gas source processing unit, etc.
Technical Features
1. Adopt the international advanced microcomputer controller, able to achieve the communication & joint control, with excellent performance.
2. Use the high-quality butterfly valve, with rapid switching and accurate & reliable operation.
3. Employ the gas diffusion device, with evenly distributed air flow in the tower, unique filling mode, and long service life of adsorbents.
4. The regeneration process utilizes the waste heat of the air compressor, with low energy consumption for regeneration.
5. Have the reasonable overall layout, compact structure, simple installation, and convenient operation & maintenance.
Technical Indexes
Air Processing Capacity: 20〜600Nm3 / min
Operating Pressure: 0.6〜1.OMPa (able to be customized according to the user requirements)
Air Inlet Temperature: ≥lO5°C〜150°C (able to select to configure the auxiliary heater)
Dew Point of the Finished Product Gas: ≤-40°C〜一60°C (dew point under the normal pressure)
Control Mode: PLC ( automatic control)
Operating Period: 6〜8h
Regenerated Gas Consumption: ≤1〜3%
| | | | | | |
| --- | --- | --- | --- | --- | --- |
| Model | Flow Rate (Nm³/min) | Inlet & Outlet Pipe Diameter (mm) | Totle Weight (Kg) | Outline Dimension (Length, Width and Height) (mm) | Power Supply Power (W) |
| ZYD-40 | 40 | 100 | 4500 | 2600*1950*2750 | 220V/50HZ, 100W |
| ZYD-50 | 50 | 125 | 5800 | 2600*2050*2950 | 220V/50HZ. 100W |
| ZYD-60 | 60 | 125 | 7200 | 3100*2050*2950 | 220V/50HZ, 100W |
| ZYD-80 | 80 | 150 | 8500 | 3300*2250*3250 | 220V/50HZ, 100W |
| ZYD-100 | 100 | 150 | 9800 | 4000*2250*3250 | 220V/50HZ, 150W |
| ZYD-120 | 120 | 150 | 11000 | 4000*2250*3500 | 220V/50HZ, 150W |
| ZYD-150 | 150 | 200 | 12500 | 4600*2750*3450 | 220V/50HZ, 150W |
| ZYD-180 | 180 | 200 | 13800 | 4900*2850*3550 | 220V/50HZ, 150W |
| ZYD-200 | 200 | 200 | 14700 | 4900*2850*3850 | 220V/50HZ, 200W |
| ZYD-250 | 250 | 250 | 16500 | 5400*3150*3650 | 220V/50HZ, 200W |
| ZYD-300 | 300 | 250 | 18000 | 5900*3450*3950 | 220V/50HZ, 200W |
| ZYD-400 | 400 | 300 | 19200 | 6300*3600*4050 | 220V/50HZ, 300W |
| ZYD-500 | 500 | 350 | 21500 | 6600*3700*4150 | 220V/50HZ, 300W |
| ZYD-600 | 600 | 400 | 23500 | 7000*4000*4300 | 220V/50HZ, 300W |