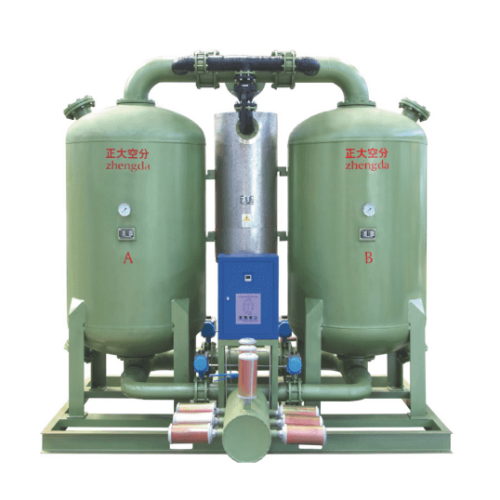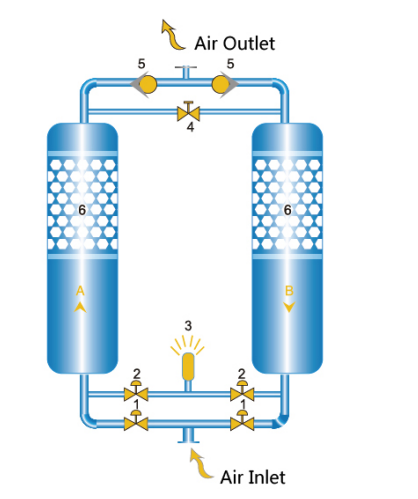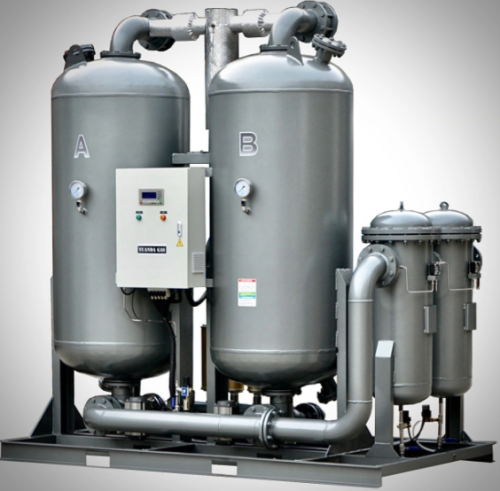 Micro-heat Adsorption Dryer-ZHD Series | Compressed Air Purification
Item specifics
Air Processing Capacity

1〜500Nm3/min
Operating Pressure

0.6〜1.0MPa
Air Inlet Temperature

≤45°C
Dew Point of the Finished Product Gas

-40°C〜-70°C
Switching Time

120min (adjustable)
Pressure Drop Between Air Inlet and Outlet

≤0.021MPa
Gas Consumption for Regeneration

≤6% rated processing capacity
Regeneration Mode

Micro-heat regeneration
Power Supply

AC380V/3P/50Hz, AC220V/1P/50Hz, AC220V/1P/50HZ
Environmental Temperature

≤45°C
Description
The micro-heat adsorption dryer (micro-heat dryer) is a product developed based on the advantages of heat regeneration and no-heat regeneration. It utilizes the drying agent's adsorption capacity for water and uses the temperature & pressure swing adsorption principle to dry the compressed air. Regenerated gas carries out the regeneration for the drying agent after the temperature is increased, which may improve the regeneration effect, and reduce gas consumption for regeneration.
The micro-heat regeneration dryer is mainly composed of the following devices including two adsorption cylinders available for being alternatively used, one electric heating device, one sound-muffling system, one set of switch valves, one electrical control system, and gas source processing unit.
Technical Features
1. The heating control device adopts the contactless solid-state switch, with automatic constant temperature control, long service life, and multi-failure warning function.
2. Have the advanced variable program, with stable & reliable operation.
3. Adopt the microcomputer control, able to carry out the digital display for the alternative operation status of two towers.
4. Use the safe & reliable control elements, so as to ensure that the output signal of the controller can safely and accurately reach the instruction objective.
5. Ensure that the dew point of the finished product gas is stable and reliable, with low energy consumption.
6. Have a simple & exquisite structure, with personalized design, convenient for operation and maintenance.
7. When the micro-heat part is faulted, the equipment may be automatically switched to the no-heat operation mode.
8. Select to configure the RS485/RS232 and linked interfaces, able to carry out the remote communication, centralized monitoring and joint control for air compressors.
Technical Indexes
Air Processing Capacity: 1~500Nm3/min
Operating Pressure: 0.6~1.0MPa (able to provide the product in the range of 1.0~3.0MPa according to the user requirements)
Air Inlet Temperature: ≤45°C
Dew Point of the Finished Product Gas: -40°C~-70°C (dew point under the normal pressure)
Switching Time: 120min (adjustable)
Pressure Drop Between Air Inlet and Outlet: ≤0.021MPa
Gas Consumption for Regeneration: ≤6% rated processing capacity
Regeneration Mode: Micro-heat regeneration
Power Supply: AC380V/3P/50Hz (ZHD-15 and above)
AC220V/1P/50Hz (ZHD-12 and below)
AC220V/1P/50HZ (ZHD-12 and below)
Environmental Temperature: ≤45°C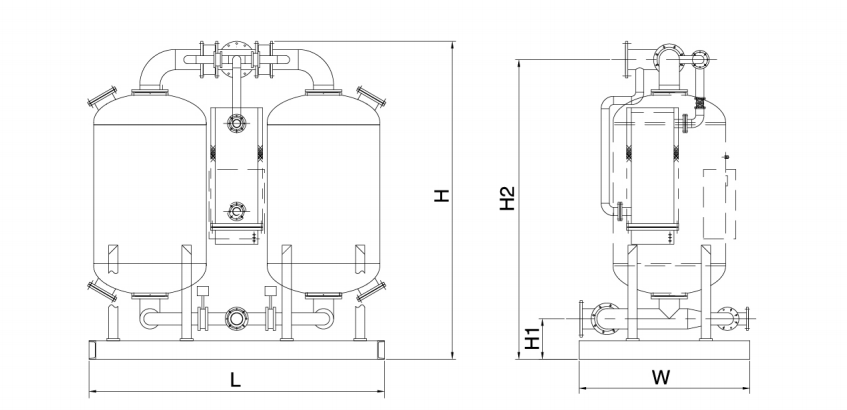 Model

Air Connection Pipe Diameter (mm)


Installed Power (Kw)

Outline Dimension (mm)

Net Weight of the Equipment (kg)

Lenght

Width

Height

Inlet Height

Outlet Height

ZHD-1

1

25

AC220V/50Hz

1.5

960

380

1300

110

1210

270

ZHD-3

3

32

1.5

1090

420

1300

160

1210

510

ZHD-6

6

40

2.7

1360

610

1580

210

1500

670

ZHD-10

10

50

4.5

1360

610

1780

210

1700

860

ZHD-12

12

50

5.4

1440

700

2000

230

1930

1090

ZHD-15

15

65

AC380V/50Hz

6.75

1600

800

2150

240

2040

1280

ZHD-20

20

65

9

1600

800

2150

240

2040

1280

ZHD-30

30

80

13.5

1940

880

2550

240

2400

1890

ZHD-40

40

100

18

2300

990

2660

280

2550

2580

ZHD-60

60

125

27

2300

1000

2850

360

2750

3250

ZHD-80

80

150

36

2650

1000

3250

360

3100

3950

ZHD-100

100

150

45

2750

1090

3080

360

3000

4600

ZHD-150

150

200

67.5

3000

1200

3210

400

3120

5500

ZHD-200

200

200

90

3200

1350

3300

400

3210

3700

ZHD-250

250

250

112.5

3380

1900

3600

440

3400

7200

ZHD-300

300

250

135

3600

2000

3800

460

3650

8300

ZHD-350

350

300

157.5

4000

2100

4150

480

3950

9400

ZHD-400

400

350

180

4300

2300

4200

500

4150

10600