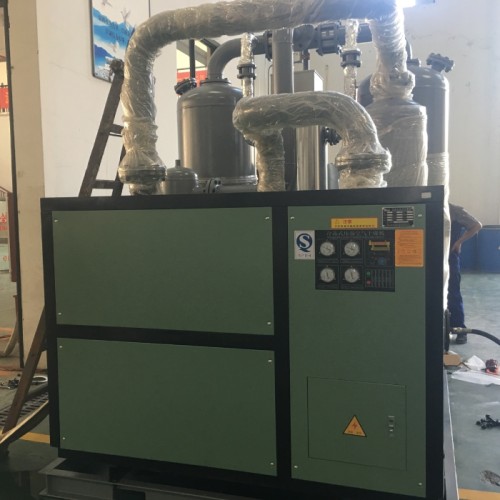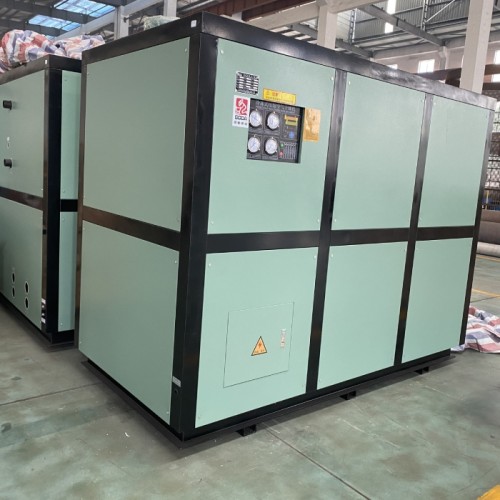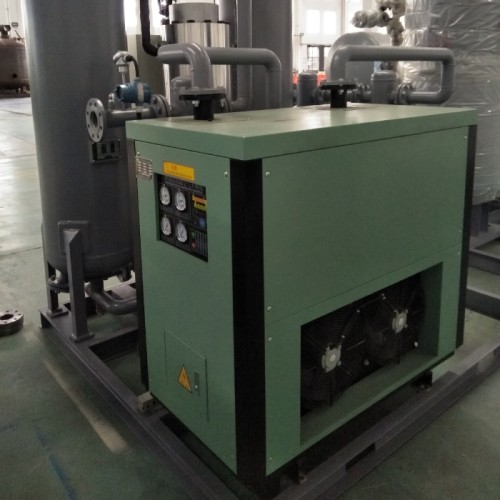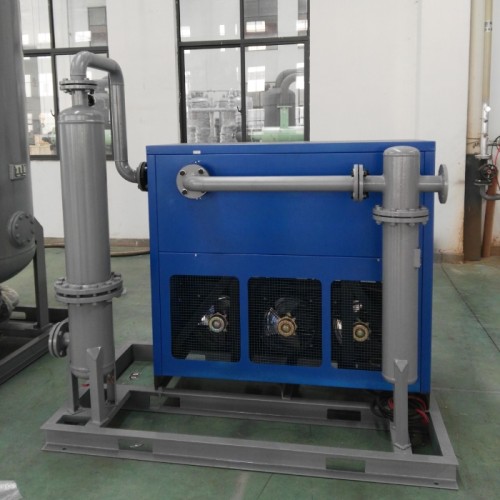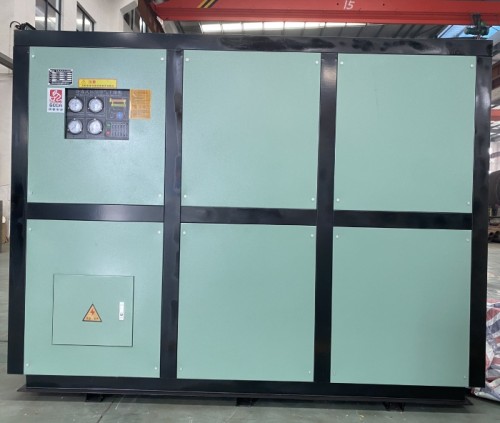 ZRD Refrigerated Type Dryer | Custom Industrial Freeze Dryer | Compressed Air Purification System Manufacturing
Item specifics
Air Processing Capacity

1〜500Nm³/min
Operating Pressure

0.6〜1.0MPa
Rated Air Inlet Temperature

≤45°C(Min 5°C)/≤85°C(Min 5°C)
Cooling Mode

Wind Cooling/Water Cooling
Dew Point of the Finished Product Gas

≤-23°C
Pressure Drop Between Air Inlet and Outlet

≤0.02MPa
Environmental Temperature

≤42°C(Min 0°C)/≤45°C(Min 0°C)
Description
The refrigerated type compressed air dryer (refrigerated dryer for short) adopts the refrigeration & dehumidification principle. The humid & hot compressed air is carried out heat exchange through the evaporator, so that the gaseous water of the compressed air condenses into liquid water, and then it is discharged from the equipment through the gas-liquid separator.

Technical Features
1. Adopt the international famous-brand refrigeration compressor, with stable operation, low noise, less energy consumption and high safety & reliability.
2. DAN FOSS brand products of Denmark are used as main refrigeration parts of the equipment.
3. In order to avoid the secondary pollution of compressed air, during the manufacturing process, the parts which the air passes through are carried out the plastic spraying treatment; the equipment uses the unique gas-liquid separation design, so as
to achieve the thorough pollutant discharge.
4. With small & exquisite structure, adopt the no-foundation installation.
5. Utilize the advanced programmable control, with excellent digital display function.
6. Adopt the electronic pollutant discharge, not easy to be obstructed, with low energy consumption.
7. Select to configure the RS485/RS232 and combined transport interfaces, able to carry out the remote communication, centralized monitoring and joint control for air compressors.
8. Have the multi-failure warning & processing functions.
Note: The refrigerated dryer refers to computer type and common type available for being selected by the user.
Technical Indexes
A. Wind-cooling Type Refrigerated Dryer

Air Processing Capacity: 1〜500Nm³/min
Operating Pressure: 0.6〜1.0MPa (Provide the product in the range of 1.0~3.0MPa according to the user requirements)
Rated Air Inlet Temperature: Normal-temperature Type: ≤45°C (Min 5°C)
High-temperature Type: ≤85°C (Min 5°C)
Cooling Mode: Wind cooling
Dew Point of the Finished Product Gas: ≤-23°C (dew point under the normal pressure)
Pressure Drop between Air Inlet and Outlet: ≤0.02MPa
Installation Method: The equipment adopts the no-foundation indoor installation method
Environmental Temperature: ≤42°C (Min 0°C)
B. Water-cooling Type Refrigerated Dryer

Air Processing Capacity: 1〜500Nm³/min
Operating Pressure: 0.6〜1.0MPa (Provide the product in the range of 1.0~3.0MPa according to the user requirements)
Rated Air Inlet Temperature: Normal-temperature Type: ≤45°C (Min 5°C)
High-temperature Type: ≤85°C (Min 5°C)
Cooling Mode: Water cooling
Cooling Water Inlet Temperature: ≤32°C (Min 5°C)
Cooling Water Inlet Pressure: 0.2~0.4MPa
Dew Point of the Finished Product Gas: ≤-23°C (dew point under the normal pressure)
Pressure Drop between Air Inlet and Outlet: ≤0.02MPa
Installation Method: The equipment adopts the no-foundation indoor installation method
Environmental Temperature: ≤45°C (Min 0°C)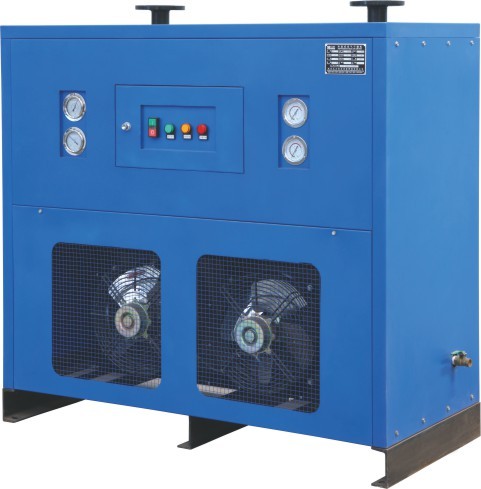 Normal-temperature & Water-cooling Type Refrigerated Dryer

Model

ZRD-1F

ZRD-2F

ZRD-3F

ZRD-5F

ZRD-6F

ZRD-8F

ZRD-10F

ZRD-13F

ZRD-15F

ZRD-20F

ZRD-25F

ZRD-30F

ZRD-40F

ZRD-50F

ZRD-60F

ZRD-80F

1.2

2.4

3.8

5.2

6.5

8.5

11

13.5

17

23

27

35

45

55

65

85

Power Supply

∅/220V/50Hz

∅/380V/50Hz

Compressor Power(Kw)

0.22

0.74

0.93

1.11

1.11

2.07

2.22

2.59

2.96

3.70

4.44

4.55

7.77

9.25

11.10

14.80

Fan Power(w)

90

120

180

180

180

120*2

180*2

180*2

180*2

200*2

250*2

250*3

300*3

300*3

300*3

300*4

Inlet&Outlet Diameter DN(mm)

G1"

G1"

G1½"

G1½"

G2"

G2"

DN65

DN65

DN65

DN80

DN80

DN100

DN125

DN125

DN150

Outline Diamension(mm)

Length

600

700

820

850

880

1050

1140

1140

1260

1400

1550

1750

1950

2200

2200

2400

Width

450

450

500

520

520

690

690

690

700

750

800

900

1050

1150

1150

1300

Height

635

860

900

1000

1005

1040

1105

1105

1330

1360

1440

1595

1730

1730

1710

2155

Net Weight of the Equipment(kg)

45

70

90

105

115

225

260

280

330

400

550

780

820

930

1020

1450
High-temperature & Wind-cooling Type Refrigerated Dryer

Model

ZRD-1F

ZRD-2F

ZRD-3F

ZRD-5F

ZRD-6F

ZRD-8F

ZRD-10F

ZRD-13F

ZRD-15F

ZRD-20F

ZRD-25F

ZRD-30F

ZRD-40F

ZRD-50F

ZRD-60F

ZRD-80F

1.2

2.4

3.8

5.2

6.5

8.5

11

13.5

17

23

27

35

45

55

65

85

Power Supply

∅/220V/50Hz

∅/380V/50Hz

Compressor Power(Kw)

0.22

0.74

0.93

1.11

1.11

2.07

2.22

2.59

2.96

3.70

4.44

4.55

7.77

9.25

11.10

14.80

Fan Power(w)

180

240

300

300

300

480

600

600

600

180*4

200*4

250*4

250*4

300*6

300*6

300*8

Inlet&Outlet Diameter DN(mm)

G1"

G1"

G1½"

G1½"

G1½"

G2"

G2"

DN65

DN65

DN80

DN80

DN80

DN100

DN125

DN125

DN150

Outline Diamension(mm)

Length

700

700

880

900

1100

1140

1350

1350

1400

1650

1700

1800

2200

2200

2400

2550

Width

450

450

550

600

600

690

700

700

800

800

900

900

1200

1250

1125

1440

Height

915

950

1075

1030

1180

1100

1390

1390

1440

1610

1655

1815

1900

2045

2060

2200

Net Weight of the Equipment(kg)

60

75

110

125

140

260

330

350

410

500

710

880

1050

1170

1260

1600
Normal-temperature & Water-cooling Type Refrigerated Dryer

Model

ZRD-10W

ZRD-13W

ZRD-15W

ZRD-20W

ZRD-30W

ZRD-40W

ZRD-60W

ZRD-80W

ZRD-100W

ZRD-130W

ZRD-150W

ZRD-200W

ZRD-250W

ZRD-280W

ZRD-300W

ZRD-350W

ZRD-400W

11

13.5

17

23

35

45

65

85

110

140

160

210

260

290

310

360

410

Power Supply

Compressor Power(Kw)

2.22

2.59

2.96

3.70

5.55

7.77

11.10

14.80

18.50

22.20

29.60

37.00

44.40

44.40

51.80

59.20

74.00

Cooling Water Circulation Volume(N

m³

/h)

2.0

2.0

2.5

3.6

5.5

7.0

11.0

13.0

15.0

18.0

25.5

34.8

39.5

42.0

46.5

52.5

69.6

Air Connection Diameter DN(mm)

G2"

DN65

DN65

DN65

DN80

DN100

DN125

DN150

DN150

DN150

DN200

DN200

DN200

DN250

DN250

DN250

DN300

Cooling Water Pipe Diameter

G1"

G1"

G1"

G1"

G1½"

G1½"

G2"

G2"

G1½"*2

G1½"

G1½"

G3"

G3"

DN100

DN100

G1½"*2

Outline Diamension(mm)

Length

1140

1140

1260

1400

1650

1850

2000

2350

2650

2820

3150

3370

3700

4200

3720

4400

4500

Width

690

690

700

750

850

850

950

1200

1400

1400

1450

1540

1900

1800

1970

2150

2000

Height

1180

1180

1245

1250

1500

1510

1530

1975

2170

1646

1860

1995

2650

2700

2115

3060

3000

Net Weight of the Equipment(kg)

220

240

260

400

780

820

1000

1400

18700

2200

2500

3300

3700

3900

4000

4500

4900
High-temperature & Water-cooling Type Refrigerated Dryer

Model

ZRD-10W

ZRD-13W

ZRD-15W

ZRD-20W

ZRD-30W

ZRD-40W

ZRD-60W

ZRD-80W

ZRD-100W

ZRD-130W

ZRD-150W

ZRD-200W

ZRD-250W

ZRD-280W

ZRD-300W

ZRD-350W

ZRD-400W

11

13.5

17

23

35

45

65

85

110

140

160

210

260

290

310

360

410

Power Supply

Compressor Power(Kw)

2.22

2.59

2.96

3.70

5.55

7.77

11.10

14.80

18.50

22.20

29.60

37.00

44.40

44.40

51.80

59.20

74.00

Cooling Water Circulation Volume(N

m³

/h)

2.0

2.0

5.0

7.2

11

14

22

29

32

36.1

50.0

70.0

78.8

84.0

93.0

105

135

Air Connection Diameter DN(mm)

G2"

DN65

DN65

DN65

DN80

DN125

DN125

DN150

DN150

DN150

DN200

DN200

DN200

DN250

DN250

DN250

DN300

Cooling Water Pipe Diameter

G1"

G1"

G1"

G1"

G1½"

G1½"

G2"

G2"

G1½"*2

G1½"

G1½"

G3"

G3"

DN100

DN100

G1½"*2

Outline Diamension(mm)

Length

1140

1140

1260

1400

1650

1850

2000

2395

2650

2820

3150

3370

4000

4200

4000

4400

4500

Width

690

690

700

750

850

850

950

1200

1400

1400

1450

1540

1800

1800

1800

3000

2000

Height

1180

1180

1245

1250

1500

1510

1550

1980

2170

1646

1860

2334

2800

2900

3000

1800

3000

Net Weight of the Equipment(kg)

260

280

300

450

860

960

1250

1600

2200

2470

2830

3500

3930

4150

4250

4800

5260